About us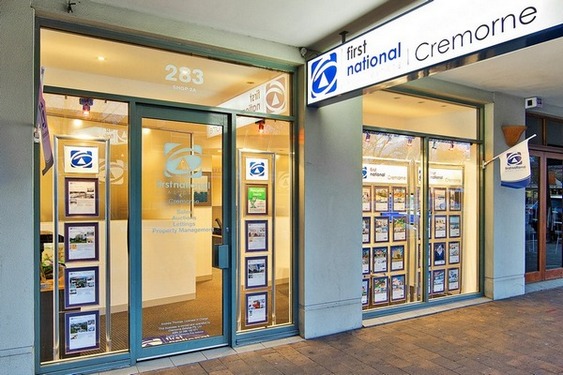 Cremorne First National is a modern independent real estate agent, located in Military Road, Cremorne opposite Cremorne Plaza and close to Cremorne Shopping Centre. The business has been operating since 2001 previously as Sydney Property. Cremorne First National is the leading agent in Cremorne and is renowned in the market for its superior residential sales and systems orientated property management service and has gained an excellent reputation over the last twelve years. Cremorne First National provides a unique, high quality and professional service to clients and specialises in corporate and executive property management.
Cremorne First National is owned & operated by Andrew Thomas who etablished Cremorne First National in 2001 after having previously worked for large corporates. Hehas experience in all aspects of real estate since 1983 and has extensive knowledge of the local market and the lower north shore. Andrew is renowned for his local market knowledge, experience and outstanding negotiation skills coupled with his high degree of professionalism, integrity, discipline and his friendly open manner. He would welcome the opportunity to discuss any of your real estate requirements.

Kate Baker, is our experienced Senior Property Manager & department head who has worked in real estate for 25 years, managing a large and diverse portfolio of investment properties both residential and commercial across the lower north shore, eastern suburbs and city. Kate is a licenced real estate agent and has a wealth of experience, practical & financial knowledge. She is extremely professional and has a friendly, genuine, gentle manner, excellent customer service, strong communication, organisational skills & can assist with answering any query you may have. Kate's skills encompass all aspects of the day-to-day property management which will ensure peace of mind with the management of your valuable investment property. She instils great confidence in her clients due to her years of expertise and thorough knowledge of legislation. Experienced with a high degree of integrity and discipline, Kate has meticulous organisational skills and is part of our talented team.

Poonam Aggarwal, is our experienced Property Manager. Poonam is primarily responsible for managing a portfolio of investment properties conducting property appraisals, inspections, repairs and maintenance, liaison with landlords and tenants regarding all aspects of property management. She has a strong real estate background, extensive local knowledge and prides herself on her calm and professional manner, excellent customer service, strong communication, conflict resolution & organisational skills and is looking forward to dealing with any enquiry you may have. Poonam displays a strong service-oriented approach to her work and is an outgoing, friendly person being renowned for her reliability, punctuality and attention to detail. She is highly committed with great expertise and excellent knowledge of the legislation. She is focused on maximising rents and ensuring the excellent maintenance of our landlord's investment assets.

Hamish Baker, I've been part of this fascinating and ever-evolving industry since I joined King, Miles & Co in Axbridge, Somerset, in 1978 as a "trainee negotiator". That job included auction days at their cattle market, assisting with the monthly Antiques and Chattels sales near Wells Cathedral, farm sales, residential lettings and sales, all in the glorious Somerset countryside. It was like All Creatures Great and Small only with property.

I arrived in Mosman in 1982 and immediately fell for the place: 35 years later I am still enthused by the property opportunities Mosman offers first-time buyers, young couples, families, older folk: small apartments, huge merchant homes and everything between: Mosman has the lot, plus wonderful beaches and water views, parks, a magnificent Zoo, restaurants and so on: but it's the people that make Mosman so different and exciting, and real estate is still a "people" industry in spite of the leaps forward in communication technology. To my mind there is no substitute for building trust by meeting and speaking with people. And that's what drives me.

Mitch Saville, grew up on the Lower North Shore and has a background in customer service and prides himself on his attention to detail and strong work ethic, whilst always aiming to provide an excellent level of service for all her clients. Mitch is passionate about all things real estate, as it is ever changing and growing. He has an empathetic, calm and friendly nature and looks forward to assisting with all your property needs.

Carolyn Thomas, finance and marketing, has previously worked for a large lower north shore corporation and has a career in marketing and property management. As Director and Office Manager she is responsible for overseeing the property management department and trust accounting with Cremorne First National. She also provides marketing support to the Sales Department.

Andrew, Carolyn, Kate, Poonam, Hamish, Rodney and Mitch are available to discuss any real estate or property management enquiries you may have. please call them on 9904 1234.